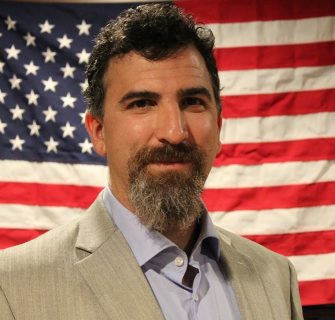 Hi, I'm Ron Bassilian.  I am running for California's 37th Congressional district as a Republican in 2018.
I'm a lifelong Los Angeles resident, except for a few short years of my childhood growing up in Israel ('79-'83).  I graduated UCLA in 1997 with a Poli Sci BA and a Mathematics BS.  I've been employed in the IT world since graduation, mostly working on Exchange, Microsoft's enterprise e-mail solution.  I created this site myself, and continue to offer my services in website building to friends as a hobby.
I was also a lifelong Democrat.  I started my political life in 1992 volunteering for Jerry Brown's presidential bid. I interned for the Democrats in DC in 1994, and I was a part of MoveOn's protests against the Iraq War in 2003, at least until I saw them devolve into the Democrats' propaganda arm. This began a long line of disappointments with the Democrats, until Trump's victory made me decide it's time for a switch.
I currently live with my wife Carrie in Culver City.  I volunteer for Culver City's Landlord Tenant Mediation Board which gives me some insight into the conflicting economic forces in this city. Carrie volunteers for the Fiesta La Ballona, a yearly city festival celebrating Culver City and Ballona Creek, pictured above. You'll occassionally see me jogging up and down the bike path along with so many other 37th district residents who enjoy this treasure.
Biggs is my pen name and an obscure Sex Pistols reference.  Just like the Sex Pistols saw themselves as a heist on Rock 'n Roll, I think we can make a heist of this district.
You can check out my older blog, mrbiggs.net for more general ramblings.  But this is why you'll see MrBiggs pasted on so many things.  And this page is a work in progress.  As the campaign progresses we will refine our message, add new interactive features, and make it a proper tool for involving everyone in this district.
Stay tuned! It's gonna be a fun ride.