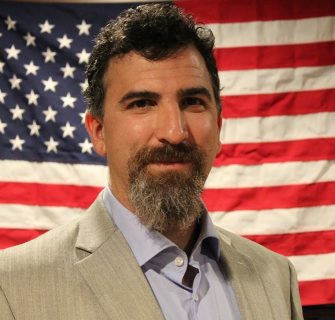 Hi, I'm Ron Bassilian.  I ran for California's 37th Congressional district as a Republican in 2018.  While the campaign was not expected to win, we did pick up a lot of support, and gave hope and an alternative to thousands of voters in an otherwise hopelessly blue district.
Given California's continuing leftward lurch and disenfranchisement of the middle class, this blog has become more relevant than ever.  Rather than wind it down, I decided to keep it up as part of the continuing the fight.
And fight, I do. I'm currently involved in a couple other organizations.  I'm chair of the 54th AD GOP Central Committee, and also help organize Protect Culver City, a non-partisan issue based PAC.  Feel free to check both out.
I'm a lifelong Los Angeles resident, except for a few short years of my childhood growing up in Israel ('79-'83).  I graduated UCLA in 1997 with a Poli Sci BA and a Mathematics BS.  I've been employed in the IT world since graduation, mostly working on Exchange, Microsoft's enterprise e-mail solution.  I created this site myself, and continue to offer my services in website building to friends as a hobby.
I was also a lifelong Democrat.  I started my political life in 1992 volunteering for Jerry Brown's presidential bid. I interned for the Democrats in DC in 1994, and I was a part of MoveOn's protests against the Iraq War in 2003, at least until I saw them devolve into the Democrats' propaganda arm. This began a long line of disappointments with the Democrats, until Trump's victory made me decide it's time for a switch.
I currently live with my wife Carrie in Culver City.
You can check out my older blog, mrbiggs.net for more general ramblings.  But this is why you'll see MrBiggs pasted on so many things.  Biggs is my pen name and an obscure Sex Pistols reference.  Just like the Sex Pistols saw themselves as a heist on Rock 'n Roll, I think we can make a heist of this district.