For a while I wanted to write about the smear of Republicans being scrooges, wanting to kick people out of their homes and take grandma off her respirator.  The Democrats have been throwing this about one issue after another, and it's generally been quite successful for them.
But this latest issue, the California gas tax hike, is a hot issue I'd like to isolate, because it really brings out who the Democrats are – a party that doesn't care about working people, that indeed wants to tax the poor to protect the rich.
Even on its face, the issue is noxious.  What, you don't want to pay more money to solve our transportation woes?  You selfish bastard.  This is how the Democrats frame it.  Literally.
But let's frame it another way.  This is raising $52 billion dollars, based not on people's ability to pay, but on the mileage they drive.  There isn't much data on the mileage people drive versus their income, but this graphic of trips versus income gives a decent idea.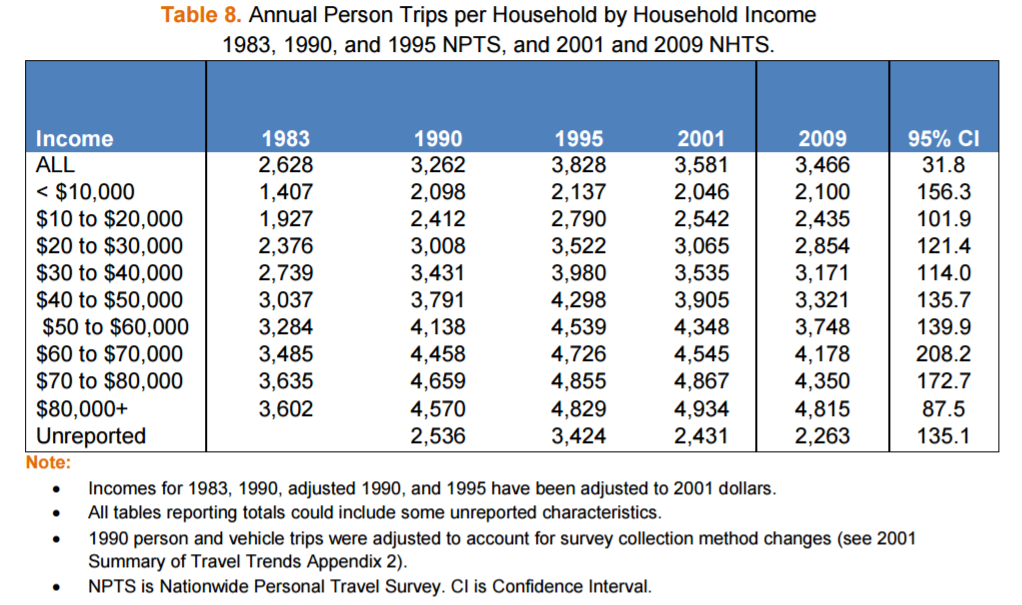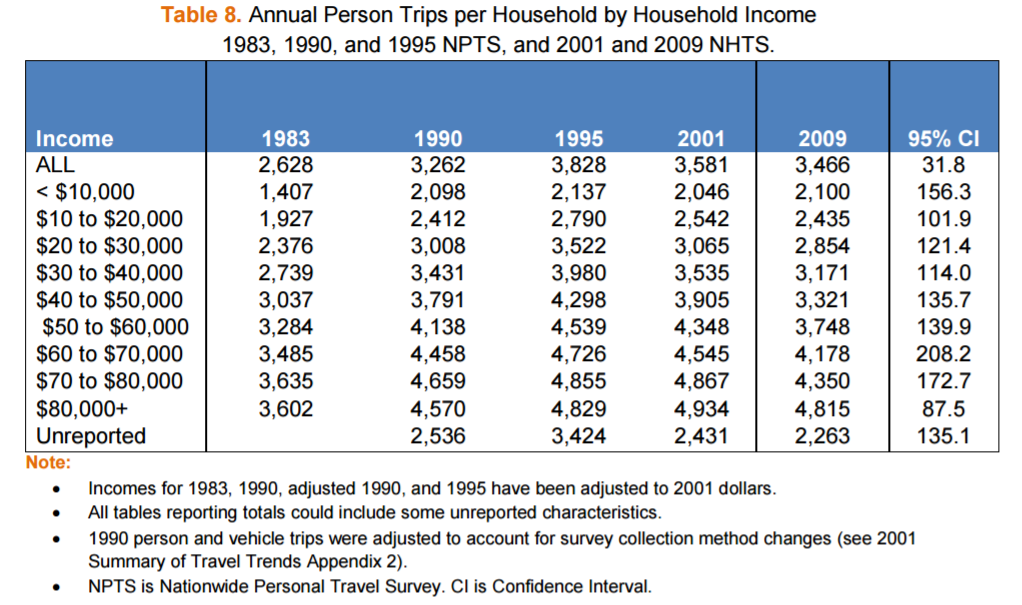 What it's telling us is, the richest Americans drive only twice as much as the poorest ones.  So, if we were to place a similar income tax increase on people, we would be charging every person a baseline tax of about $500, up to $1000 for the richest people.
On what planet is that fair?  And who does this benefit?  I'll tell you who.  It benefits Brown's pet high speed rail project.  It benefits the highest highway construction costs in the country.  And it benefits a political class that keeps those costs high and their contractor friends rich.
I live right next to the DMV.  I see the line of misery every morning outside their door.  Increasing the tax and regulation burden on the working poor of this state is not a liberal idea, at least not in the classic sense.  Those who care about the working poor should not be voting Democrat in this state.
I will be joining Travis Allen's fight to repeal the California gas tax hike.  But this issue is just one of many symptoms of a California political class that has outgrown its usefulness and is now a drain on ths state.
Voting Democrat in California means voting for a status quo where the rich and well connected continue to squeeze the working poor.  California Republicans want to see a government that works and cares for its citizens.  But increasing taxes, especially on the poor, doesn't solve the problem.  We need new people in office who can tackle this bureaucracy and make government cheap again.
Then we can have a California that really prospers.