It's been one heck of a President's Day weekend.  Saturday I went to the LAGOP committee meeting, we heard some bad news about our fair city.  So far, we have some twenty districts in LA County with no declared Republican candidate.  Here's a partial list, since our guy rattled them off faster than I could write them down:
Congressional districts: 28, 29, 32, 34, 36, 40
Assembly districts: 43, 48, 50… 59, 64, 78
State Senate districts: 20, 22, 24, 26, 30 (my home district)
All in all, we're looking at about 20 districts in Los Angeles County with no declared GOP candidates.  This is not a healthy political climate.  Now the deadline is March 9, and hopefully people will step up, but if we don't get at least some people to step up, we will have betrayed millions of registered GOP voters, and California will slip further into a one party state.
I wish I hadn't found out about it this late.  I don't even have time to research all these districts.  I do know at least one guy – Johnny Nalbandian – who's planning on running as a GOP candidate in the 28th district.  But anyone who's planning on it should at least let LAGOP know by now.
I decided to run for precisely this reason – nobody else was stepping forward as a GOP candidate against the incumbent in my district.  And it was worth $1700 of my personal money just to have the option not to vote for a Democrat.  I'm sure over 2 million registered Republicans in Los Angeles feel the same way.
When I announced my intentions, I wasn't exactly encouraged either.  I was given expectations of raising $100,000 and running a million dollar campaign.  All in an area where simply not frothing at the mouth at the mention of Trump was cause for suspicion.  Let alone the friends and contacts I lost once I declared myself Republican.
We need to get real about our city.  It doesn't take $100,000 or a million dollars to run.  It takes the filing fee, and that's it.  A couple grand, and the ability to speak your mind and find like minded people.
The LAGOP is like the Astros five years ago.  We're not going to win the World Series tomorrow.  But if we lay the proper groundwork, get some patriots to just put their name up, and stand up for the name of our party and the issues we care about, we can take these seats back.
And that brings us to Sunday, where I walked a couple of Culver City neighborhoods for City Council candidate Marcus Tiggs.  This is supposed to be a non-partisan election.  But that isn't stopping the Democrats from endorsing their candidates, or smearing Marcus as "being too close to Republicans".  Meanwhile, I was walking for Marcus with a registered Democrat, who's wary of Trump but is also afraid of what the Democrat Party has become.  We had a great talk.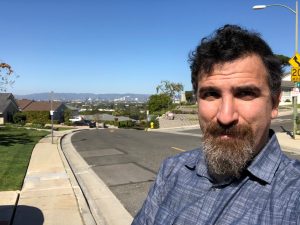 It's important to understand what this means.  The Democrats' rage against Trump, their desperate desire to smear him, his supporters and his party, and resort to dog whistle politics at every turn, is a sign of their own doom.  They have no vision or ideas left.  They're like a chicken with a head cut off, furiously running around the field as it bleeds out.  They are the establishment party, rotten with power, with no real remaining connection to the people.  They are ripe for the fall.
On that note, I will be going to CPAC in Washington DC this Wednesday to bring some much needed national attention to our city.  Any prayers or suggestions are welcome.  I will be there with a motley crew of young Republicans, who are full of fresh ideas and innovative approaches.  So anything is possible.