Community Council Elections are being held throughout the city of Los Angeles this Sunday.  Here in Mar Vista they are happening Sunday June 2nd at the Mar Vista Recreation Center auditorium, at 11430 Woodbine Ave (at the park at Palms and McLaughlin).   And of course, the Democrat machine in this city is up to their usual dirty tricks.
Mayor Riordan initially came up with the idea of community councils as a response to growing calls from San Fernando to secede from Los Angeles.  He created 99 districts which would have local elections and would hold the city council accountable.  What we saw here in our community for the past couple years is how the city can still push its agenda on communities that do not want it.   Namely, the lane closures here at Venice Blvd have decimated the Mar Vista commercial district I've called home for 15 years.  It's left local residents butting heads with the city, but it's not limited to that.
The city's response to this is to push their own slate of puppet candidates that will rubber stamp this and so many other projects they have coming our way.  And as a machine goes, they're up to their usual dirty play.  We've seen flyers for their slate at the local post office, they're magically funding an In-N-Out truck to campaign for their slate on election day,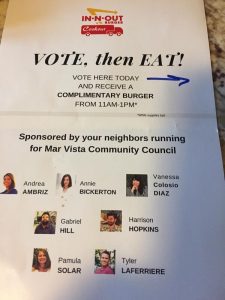 they're harassing candidates who are not on the slate – and that's just what we've seen so far.
But there is hope here.  We do have a number of upset residents that are starting to organize to buck the city's draconian plans.  And I'm proud to be a part of this movement.
I'm personally proud to endorse Selena Inouye and Kathryn Wheeler as at-large directors for the community council.  Selena is the architect of restoreveniceblvd.com , a grassroots revolt against the Venice Blvd. lane closures.  Kathryn Wheeler has also been a dynamo for the frustrated resident.  You can read more about her program at ourmarvista.org.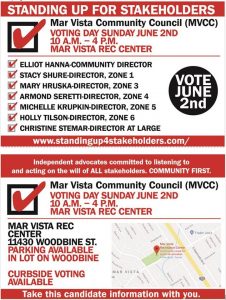 Standingup4stakeholders.com also promises to be able to stand up to city interests.  Go check them out.  Let this be an implied endorsement of everyone on their slate.
Notice something else: the age difference.  The In-N-Out slate is all young – easy to manipulate, great shock troops.  The Stakeholder slate is all older – been here a while, interested in maintaining the community, won't be pawns of LA City Council.
For the election, you can vote for someone for each of the six zones, a community director, and up to six directors at large.  So for the at large directors, I recommend voting for the three you see: Christine Stemar, Selena Inouye, and Kathryn Wheeler.
Check the map below to see whether you're qualified to vote in these elections.  If in doubt, show up anyway.  It's unclear what evidence they need for you to cast a ballot.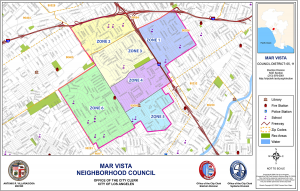 That's all I have to say about this for now.  Hope to see you Sunday!